Key Features

:


•

Ovens and hotplates ready for use at all times


•

Boiling plate and simmering plate


•

Roasting oven and simmering oven


•

All new AGA heat-storage range cookers come with a five-year


•

parts warranty and one-year labour warranty



Fuel Type:




Electric, Electric Night Storage, Gas, Oil



Colours Available:


Cream, Aqua, Aubergine, Black, British Racing Green, Dark Blue, Duck Egg Blue, Pearl Ashes, Pewter, White, Heather, Pistachio
How It Works


The 2-oven AGA range cooker has a boiling plate and simmering plate, plus a roasting oven and simmering oven.

These are kept constantly ready for use by the cooker's unique heat technology, made possible by its cast-iron body. The cast-iron ovens of an AGA range cooker are gentle on food and lock in moisture, flavour, texture and, importantly, goodness, meaning dishes taste delicious every time. Catering for a crowd with an AGA cooker is no problem either – both AGA ovens are big enough to fit a 13kg (28lb) bird, making them perfect for cooking a big family Sunday lunch.

Energy Consumption

In terms of energy consumption, an AGA home shouldn't cost any more to run than any other. In fact, an AGA heat-storage cooker could actually save you money on your energy bills. Here are some reasons why:
The lifespan of an AGA range cooker is much longer than others - An AGA cooker's longevity is at least three times that of a conventional cooker. In fact, many AGA cookers across the UK are still working perfectly after 50 years or more of sterling service. It's well known that many AGA families pass their AGA cookers down from one generation to the next.
You'll rely less on radiators - An AGA cooker gives off enough ambient heat to keep most kitchens warm, even in winter, which means you're likely never to use the radiator in the kitchen and perhaps in adjoining rooms. This will compensate for the energy an AGA cooker uses and could save you even more.

AGA cookers reduce the number of kitchen appliances you need - An AGA heat-storage cooker does more than cook food - it's a domestic workhorse that can replace other kitchen appliances such as your tumble drier, iron, toaster, bread maker,
microwave and kettle.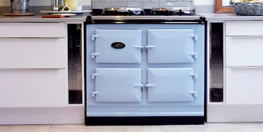 Beneath the design values of every AGA range cooker lies a heart of cast-iron. Ready to cook whenever you are, with no switches and dials to master.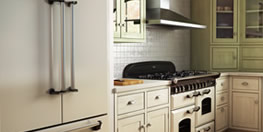 The AGA refrigeration collection is innovative, reliable, classically designed and unmatched in terms of performance as you would expect from AGA.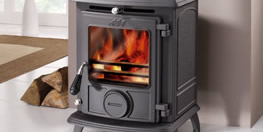 Generations of children have grown up with the traditional AGA range cooker in the kitchen. AGA also produce quality woodburning and multifuel stoves.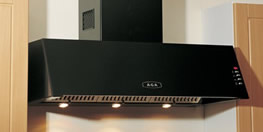 Complement your AGA range cooker with one of our cooker hoods, our vent hoods coordinate perfectly with any
AGA range of cooker.